VIDEO
How are CAR-T therapies designed and implemented? This video gives an overview of this exciting field.
VIDEO
Exploring the plasticity of tumor-associated macrophages (TAMs) and challenges in distinguishing M1- versus M2-polarized macrophages.
VIDEO
Before you start your next immunofluorescence (IF) experiment, ask these three questions to ensure you will get reliable results and avoid headaches.
VIDEO
Too much brightness in your immunofluorescence (IF) images can make your data difficult or impossible to interpret. In this video we'll talk about what excess signal means, potential causes, and solutions for this problem.
VIDEO
How do you know if your antibody is working properly in immunohistochemistry (IHC)? In this Tech Tip, Abbey discusses the use of positive and negative tissue controls, isotype controls, and controls for phospho-specific and modification-specific antibodies.
VIDEO
Should you switch from western blot to flow? We'll go over situations where flow cytometry can take your research further in this Tech Tip video with Sarah.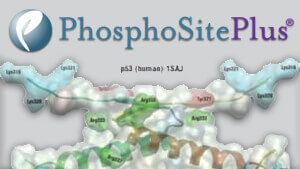 PHOSPHOSITE PLUS
Bioinformatics Resource
Comprehensive tool for the study of protein post-translational modifications (PTMs).